Full Circle is a USTA program that connects two or more people with a shared concern for a horse for the purpose of assisting that horse if/when it is needed. The American Quarter Horse Association, Jockey Club, Morgan Horse Association and American Saddlebred Registry have similar programs.
Click here to watch a video on how Full Circle works and how to enroll a horse or horses that are important to you.
Someone who wants to be contacted if a particular registered Standardbred ever needs help at any time in their life can enroll that horse in Full Circle. That enrollment is not binding or permanent. There is no obligation on their part. They do not need to have had a direct connection with the horse and they do not need to be a USTA member. There is no charge. The form can be found here , or call the USTA at 877-800-8782 and ask that one be mailed to you.

If you have a USTA online services account, you can enroll a horse via that account and you will see the Full Circle enrollment button after clicking the 'Horse' option. There is no charge and you may enroll as many horses as you wish. You do not have to be the horse's current or former, owner, trainer, driver or groom. You can have any type of connection to the horse or no connection.
This logo will appear next to their name in our database

The horse's name can be accessed through the USTA's Pathway system and also via the free tattoo/horse name search that appears on the Pathway home page.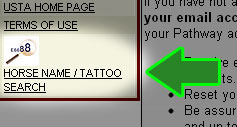 Look up that horse in Pathway or on the free tattoo lookup box to see if the horse is enrolled in Full Circle. If the logo is next to their name, call the USTA at 877-800-8782 x 1 to see who enrolled the horse or email fullcircle@ustrotting.com to find out who the person (or there may be more than one) and their contact information.

What will that person do?
You and the person who enrolled the horse will discuss all viable options to come up with a plan that is acceptable to you both. That person is under no obligation and the USTA has no involvement in the outcome of the discussion. They may not opt to help or you may not come to a mutual agreement on a way to help the horse.
No. Full Circle enrollment has no effect unless the person caring for them seeks assistance from the person who enrolled the horse.
Yes. Anyone can enroll any horse. You need not have had a connection, such as breeder, owner, trainer, etc. in the past.
No. You must complete this form or call the USTA at 877-800-8782 and one will be mailed to you.
Yes. Complete the Full Circle Form for at least one horse and note that you would like to enroll every horse you ever bred, trained, owned, or all the progeny of a particular horse. If you would like to enroll only some of those horses, we must have individual names and that should be specified on the form.
Yes. If the horse in question is currently in your care, custody or control and you are the listed owner of the horse in our database, you can consider converting their registration to Pleasure. This will ensure that the horse is not raced or their progeny registered after their leave your care, if that is your intention. Pleasure conversion may also make the horse more appealing to another equine discipline, such as roadster competition. For more information on Pleasure Registration, click here.